A feather banner is one of the most widely used promotional items for attracting customers to a storefront or event. Feather banners/flags, so named because of their feather-like structure, are intended to display brief messages and logos to foot and street traffic (longer messages do not function well with them). They work best when utilized to welcome new customers, announce store openings, offers, and promotions, and advertise certain goods or services.
Boldly displaying your company's logo or a special offer on these banners could significantly increase foot traffic to your store. Moreover, their unusual shape, reminiscent of a bird's feather, makes them stand out in any environment, making them hard to ignore even from a distance. Here are some convincing reasons to consider using feather banners to promote your business:
High visibility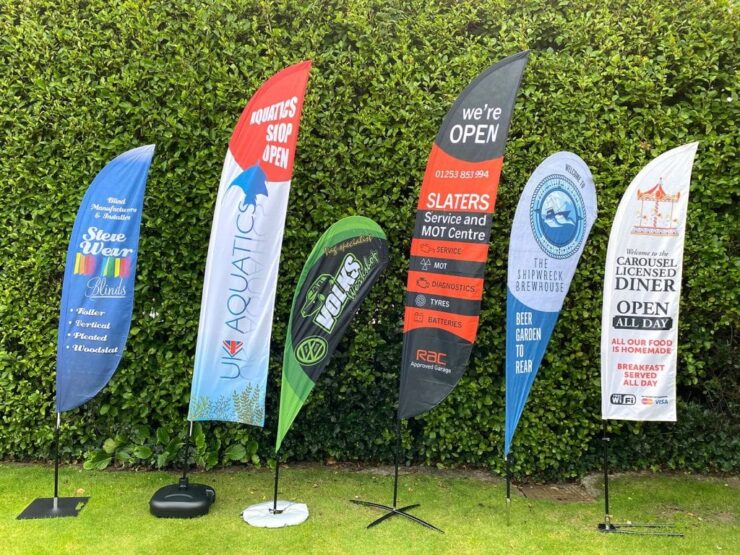 Feather banners can attract passersby's attention and lure potential consumers when placed in front of shops, stores, and other high-traffic areas. Place flags outside your establishment to give potential customers an extra "nudge" to enter. Consider getting more than one if you truly want to stand out. The effectiveness of many banner flags will be substantially greater than that of a single flag. Moreover, their bright colors and movement with the wind make them incredibly noticeable. As they flutter, they create a dynamic spectacle that naturally attracts the human eye, further increasing your brand's visibility.
They use minimal space
Even the largest feather banners, which measure 2.5 feet wide, use relatively little space. Such banners are, therefore, ideal for low-budget marketing for placement in constrained places. You can always use custom feather flags to effectively promote your brand in crowded spaces. The wording and typography on the flags are clear when you use a reputable printing company to create the banners. Despite their small footprint, they can display quite a bit of information. This makes them excellent for use in urban environments where space may be at a premium. Plus, their height can make them visible from a distance, even in crowded areas.
Several options are available
Feather banners come in many options, including teardrop banners, double-sided feather flags, and assorted sizes and colors. The flags are made of polyester fabric, including a strong pole and in-ground stake. High-quality feather banners are opaque with no potential for see-through, which means you can use different designs on either side. Despite their small footprint, they can display quite a bit of information. This makes them excellent for use in urban environments where space may be at a premium. Plus, their height can make them visible from a distance, even in crowded areas.
They are easy to put together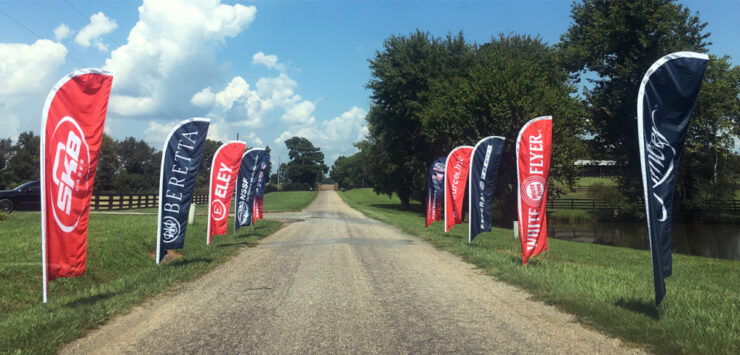 Feather flags are the easiest to put together and disassemble. You simply need to assemble the pole set and ground stake, add your custom-printed banner, and you're prepared to start marketing your company or event. You can disassemble your flags and reassemble them in your new place if you need to move them to another area. This ease of assembly and disassembly makes feather banners a favorite choice for events where setup and breakdown must be quick and efficient. Also, their lightweight design makes them easy to transport, adding to their convenience.
One-time cost
Customized feather flags are the most cost-effective way to advertise your business. They are one of your company's most important assets because they always stay in style, aren't thrown away, and may be used for years. Therefore, the flag banners are a one-time marketing investment that produces reliable results. This sustainability and reusability also add an eco-friendly aspect to your marketing efforts. Unlike disposable banners or flyers, feather banners can be used repeatedly, reducing waste and showing your company's commitment to environmental sustainability.
Season-long toughness
Feather flags are weatherproof in typical weather conditions. Feather flags can survive all weather and climates, whether it's raining, snowing, sleeting, or sunny. Of course, it is always a reasonable idea to bring your flags inside during bad weather, such as thunderstorms and blizzards, to protect them from damage. On the other hand, a little rain or snow will simply roll off. The robustness of feather banners is a testament to their durability and value for money. It also ensures that your advertising efforts are not hampered by the unpredictable whims of Mother Nature.
Easy to Update and Replace
Feather banners not only offer the flexibility of a one-time investment, but they also present the ease of updating and replacing the printed content. Suppose your marketing messages or brand aesthetics change over time, or perhaps you have a new offer, product, or service to promote. Instead of incurring the expense of an entirely new signage system, you simply need to replace the fabric banner while still using the existing hardware. This not only keeps your marketing costs low, but also ensures you can quickly adapt to the fast-changing business environment, keeping your promotional messages current and relevant. This attribute makes feather banners perfect for businesses that frequently participate in trade shows or host different events.
Promotes Interaction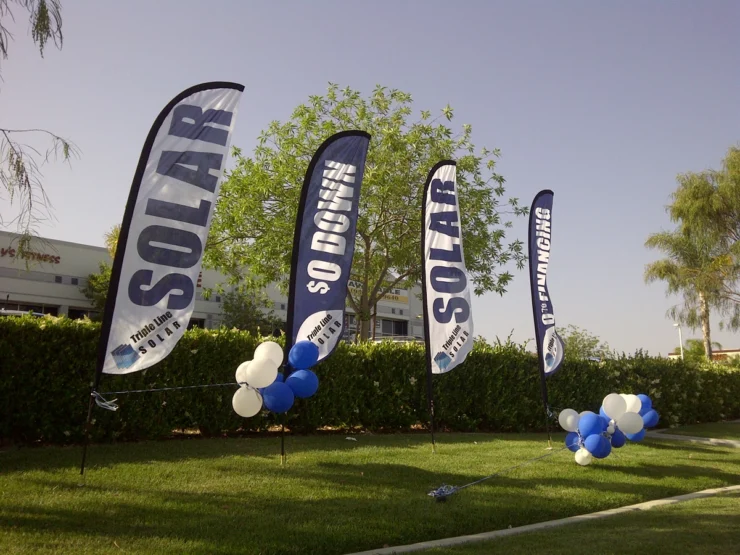 Feather banners have a unique quality of promoting interaction with potential customers. Their visually appealing and intriguing design often sparks curiosity, encouraging people to approach your storefront or event to learn more. This interaction is an invaluable opportunity for your business to engage, explain your offerings, and potentially convert an interested individual into a customer. Even if the person doesn't convert immediately, the memorable interaction will increase brand recognition, making them more likely to choose your services or products in the future. Therefore, feather banners not only draw attention but also facilitate a vital first step in customer engagement and conversion.
The bottom line
Feather flags are very adaptable. Restaurants, car dealerships, shops, apartment buildings, and many other companies can use them to greet customers and advertise services, deals, and promotions. They are valuable for promoting events like concerts, reunions, commencement speeches, and trade exhibitions. So, whether you're a small local business or a large multinational corporation, feather banners can offer a cost-effective, high-impact, and versatile solution to your advertising needs. With their eye-catching design and durable construction, they're sure to make a lasting impression on potential customers.