Are you looking to give your kitchen a stylish makeover? Glass splashbacks are an excellent way to do just that. Not only do they look great, but they can also provide practical benefits in terms of hygiene and ease of cleaning.
In this article, we'll explore how glass splashbacks can elevate your kitchen with their sleek and modern design. We'll find out how easy it is to install them and the various options available for customizing them according to your individual needs.
So if you're thinking about giving your kitchen a revamp, read on for more information on why adding a glass splashback could be the perfect solution!
The Beauty of a Glass Splashback: Spice Up Your Kitchen with Style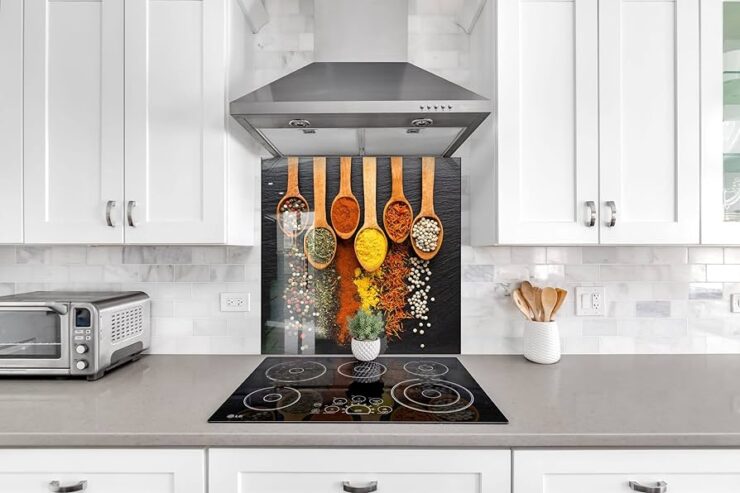 A kitchen splashback can be a great way to inject style into your cooking space without breaking the bank. Glass splashbacks are particularly popular, as they offer an attractive and easy-to-maintain solution that will last for years to come.
Their sleek design radiates beauty, allowing you to express your personality through their vibrant colors and unique designs – from intricate patterns to bold statement pieces.
Not only do glass splashbacks elevate the look of any kitchen, but they also make cleaning up after meals easier than ever before. The smooth surface ensures spills can simply be wiped away with minimal effort; no more scrubbing!
Whether you're looking for a subtle addition or a show-stopping feature wall in your kitchen, there is sure to be a perfect glass splashback out there waiting for you – unleash your creativity and add some pizzazz!
How to Select the Perfect Glass Splashback for Your Home
Selecting the perfect glass splashback for your home involves a few key decisions. Firstly, consider the size of your kitchen and how much wall area you need to be covered by a splashback – it could be an all-over panel or just one section.
Secondly, think about which type of glass will best suit your aesthetic preferences; from clear frosted options with textured patterns to colored tinted panels in vibrant shades like blue or green. It is also important to factor in functionality when picking out a splashback – will it have any special features such as providing illumination?
If so, then look at LED light strips that can be fitted along its edges.
Additionally, some models come with integrated sockets where small electrical appliances can be plugged directly into them without having messy cords around countertops – this is especially helpful if you're short on outlets!
Finally, remember to go for quality materials when buying a new glass splashback so that it lasts longer and looks great over time; thicker-tempered options are better than thinner alternatives since they are less prone to cracking or warping due to exposure from cookers and grills nearby!
With these useful tips in mind finding the right product shouldn't be too hard when shopping around; pick out something beautiful and functional today!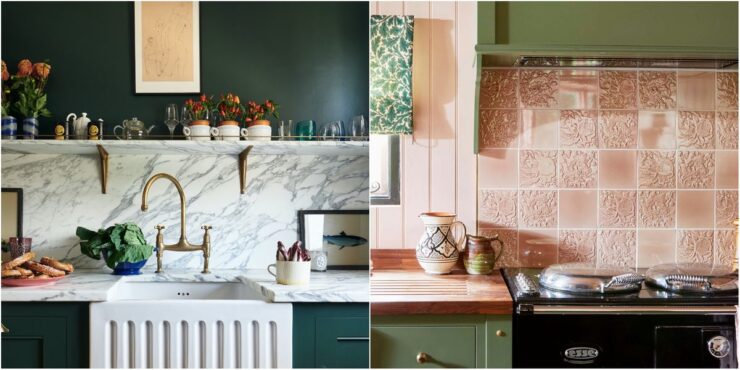 Brighten Up Your Kitchen with Colored, Patterned, or Mirrored Splashbacks
Adding a colored, patterned, or mirrored splashback to your kitchen is an easy and effective way to spruce up the room. Not only will it add a unique touch of style, but it can also help brighten up any space with its vibrant colors or reflective surfaces.
Whether you're looking for something subtle yet eye-catching or something bold that stands out from the rest – there are many patterns and hues available to choose from.
Patterned glass backsplashes create interesting visual textures while colored options provide either a single statement color or multiple shades blended in one panel.
Mirrored splashbacks offer an elegant look as well as make small kitchens appear more spacious due to their reflective properties – perfect for those who want both practicality and aesthetic appeal! With so much choice at your fingertips, finding the perfect addition to your kitchen has never been easier – adding a little sparkle couldn't be simpler!
Conclusion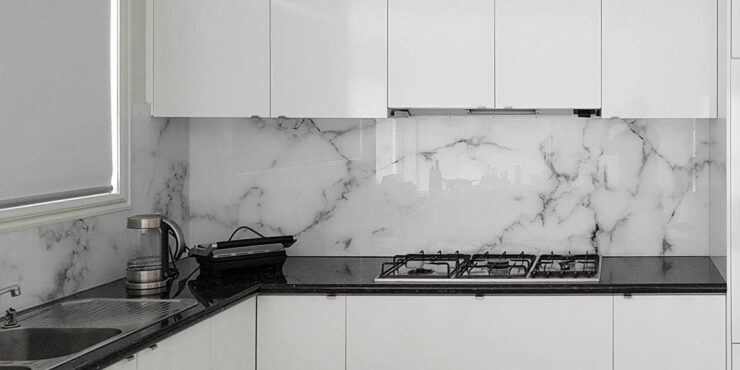 Glass splashbacks are an excellent way to add a stylish touch to your kitchen. Not only do they look great, but they can also help protect the walls from splashes and stains.
Plus, glass splashbacks come in many different colors and styles allowing you to choose one that will perfectly match your existing décor or create a unique design of your own. With a glass splashback, you can easily elevate any kitchen and give it a modern, sophisticated look that is sure to impress guests.